Naval History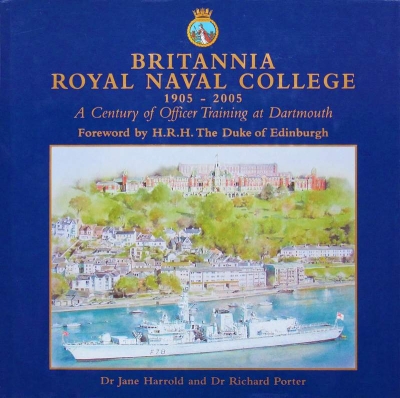 Harrold, Dr Jane & Porter, Dr Richard
BRITANNIA ROYAL NAVAL COLLEGE 1905-2005
A Century of Officer Training at Dartmouth, signed by both authors on the title-page (see picture), very numerous illustrations in colour, sepia and b&w from photographs, paintings and reproductions of documents, chronology, appendices, bibliography & index, 208 pp, blue boards in d/w, top of spine of d/w very slightly creased, otherwise in very good condition, Richard Webb Publishers (Dartmouth, Devon) 2005
27.8 x 27.1 cm, 1570g, ISBN 0 95363 613 5
See below the description from the dustwrapper flap, and extracts from reviews.
The authors are the Deputy Curator and Curator (respectively) of the Britannia Museum at the College. The book is extremely well produced and illustrated and, as you can see from the weight of the book, printed on heavyweight paper. I rather doubt whether the publisher made much money on the deal. Although the book is still shown on the publisher's website, there is no way of buying the book through that website, and the usual online booksellers can only offer secondhand copies for eye-watering prices.
As this is a large and heavy book, it would cost a good deal to send the book abroad. If you are outside the U.K. and are thinking about buying it, please email us first on enquiries@monkshillbooks.co.uk and we will quote a price for postage.
£27.50
(FREE UK Mainland delivery)
Click to enlarge images below