Book Illustrations & Illustrators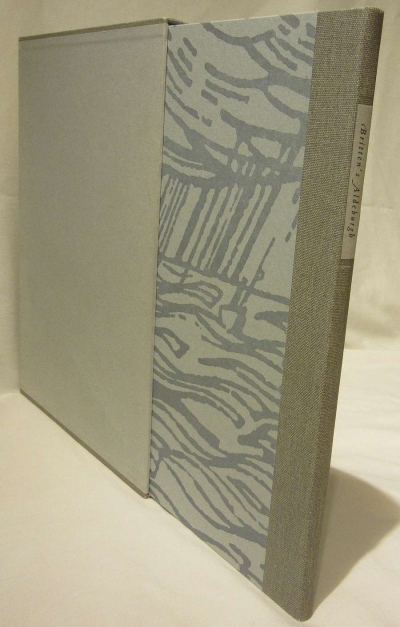 Craig, John
BRITTEN'S ALDEBURGH
With eighty-one engravings and three two-colour linocuts by the author – No. 97 of a limited edition of 440 signed by the author, two of the wood engravings are tipped-in folding plates, one of the three folding tipped-in linocuts is on grey paper (see picture below), text in brown with woodcuts in black (see picture below), short quotations in musical notation from Britten's works, unpaginated (in fact 72 pp including the blank sheets at beginning and end), half grey buckram with design by the author on the covers, top edge blue, in matching grey slip-case, in very good condition, Whittington Press (Leominster, Herefordshire) 1997
32.9 x 23.5 cm, 1050g, ISBN 1 85428 017 1
Benjamin Britten was known to compose parts of his music while walking round the Aldeburgh area, and John Craig follows these paths and describes what he sees in words and woodcuts – see the specimen page and the author's explanation below.
However, there is more to the book than that. The author took great care to oversee the layout of the text on the page and the positioning of the illustrations, to the extent that one American bookseller was led to describe the text as 'Craig's verses' – which they certainly are not. The overall effect is more a work of art than simple illustrated rambles around the Suffolk coastline. The publisher has described the book as 'among the most original and sought-after of Whittington titles'.
The binding and slip-case are very substantial, as you will see from the book's weight. This means that the book would cost a good deal to send abroad. If you live outside the UK, please email us at enquiries@monkshillbooks.co.uk and we will quote you a carriage cost before you place your order.
£290.00
(FREE UK Mainland delivery)
Click to enlarge images below