England South-East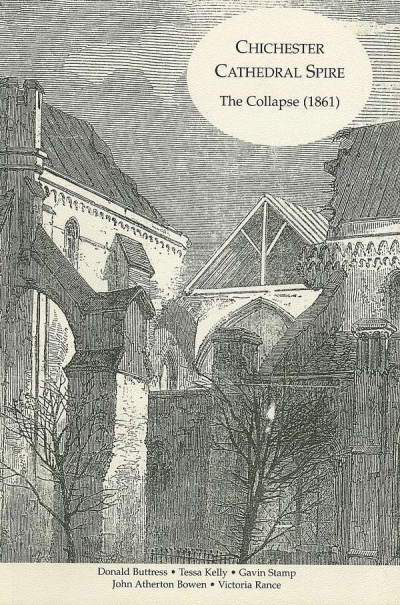 Foster, Paul (editor)
CHICHESTER CATHEDRAL SPIRE
The Collapse (1861) (Otter Memorial Papers No. 13), b&w engraving frontispiece and numerous b&w illustrations from contemporary photographs, prints, portraits & line-drawings (see specimen below), architectural plans, 110 pp, paperback, in very good condition, The University of Chichester (Chichester, West Sussex) 2005
21.5 x 14 cm, 230g, ISBN 0 94876 518 6
The Otter Memorial Papers are a series of monographs on historical and religious subjects connected with Chichester. Each volume stands on its own. The present spire on the Cathedral was constructed under the instruction of the eminent architect George Gilbert Scott and took five years. Chichester being one of the few cathedrals visible from the sea, there is a story that a sailor on a ship entering the Solent was taking a sighting on the spire when it collapsed.
See the contents list below.
This volume was originally published on 21 February 2001, the 140th anniversary of the spire's collapse, and was reprinted four years later. However, the book is no longer mentioned on the University of Chichester website and must be assumed to be out of print. At any rate, one optimistic American bookseller is offering a 'good' copy for sale at £142.75 . . .
£16.00
(FREE UK Mainland delivery)
Click to enlarge images below