England North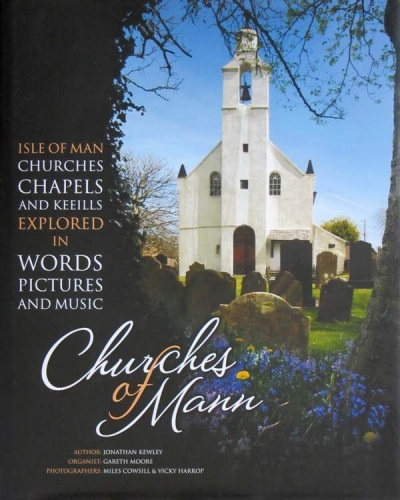 Isle of Man - Kewley, Jonathan
CHURCHES OF MANN
Isle of Man Churches, Chapels and Keeills Explored in Words, Pictures and Music, including a 60-minute CD of organ music from the churches' organs, very numerous colour photograph illustrations, gazetteer listing the church and chapel organs, glossary, 168 pp, maroon boards in d/w, top and bottom edges of d/w a little creased and rubbed, slight dents to rear of d/w, otherwise in very good condition, Lily Publications (Ramsey, Isle of Man) 2009, £12.50, C7b
27.9 x 21.5 cm, 1140g, ISBN 978 1 89960 282 7
See below the description from the dustwrapper flap, and the track listing for the enclosed CD. 'Keeill', incidentally, is the Manx Gaelic word for 'chapel'.

The CD was clearly originally in one of those cardboard holders pasted inside the rear cover, but the previous owner seems to have found (as we all do) that the CD is almost impossible to extract from such a holder, and he or she has removed the holder neatly and put the CD in a much more satisfactory slimline plastic case (see picture), which will be packed separately.
The book is still available from the publisher at £20.50 including UK postage.
Beware – this is a heavy book and would cost a good deal to send abroad. If you are outside the U.K. and are thinking about buying it, please email us first on enquiries@monkshillbooks.co.uk and we will quote a price for postage. (Please note Royal Mail regard the Isle of Man as within the U.K.)
£12.50
(FREE UK Mainland delivery)
Click to enlarge images below