Wild Animals
Books >
Wild Animals
>
THE COMPLETE ILLUSTRATED THORBURN'S BIRDS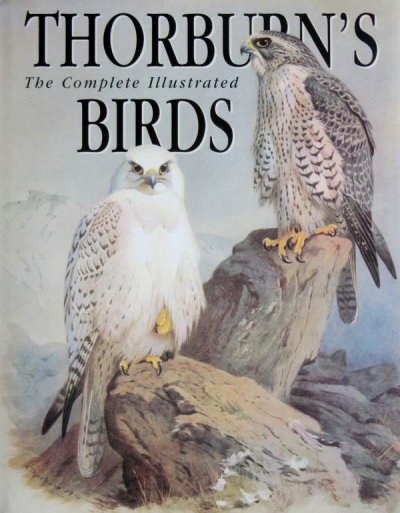 Thorburn, Archibald (illustrator)
THE COMPLETE ILLUSTRATED THORBURN'S BIRDS
With an Introduction and Notes by Peter J.S. Olney, 82 full-page colour reproductions of Thorburn's paintings, notes on the birds depicted (see specimen page below), bibliography and index, 128 pp, glazed pictorial boards in d/w, in near fine condition, Beaver Publishing (Alderley Edge, Cheshire) 1997
31.3 x 24.2 cm, 1020g, ISBN 1 85962 056 6
See below the description from the dustwrapper flap. Originally published in four volumes between 1915 and 1918, though the accompanying notes are now extremely out-of-date. Modern editions of the plates, which are now well out of copyright, generally add their own notes.
The considerable size of this edition is welcome as the details of the paintings are more easily visible.
This edition is now out of print. The paperback edition currently available on The Website That Is Intent on World Domination at £14.25 reproduces the illustrations in black-and-white – words fail me . . .
Beware – this is a large and heavy book and would cost a good deal to send abroad. If you are outside the U.K. and are thinking about buying it, please email us first on enquiries@monkshillbooks.co.uk and we will quote a price for postage.
£12.50
(FREE UK Mainland delivery)
Click to enlarge images below