Architecture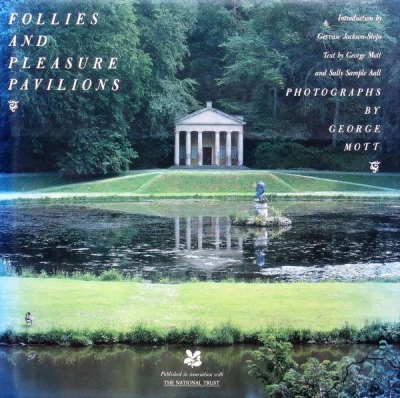 Mott, George & Aall, Sally Sample
FOLLIES AND PLEASURE PAVILIONS
Photographs by George Mott, very numerous colour photograph illustrations (see specimen page below), further b&w illustrations in 18pp introduction from paintings and drawings, short bibliography and index, 132 pp, navy blue cloth in d/w, top edge of covers a little faded, edges of d/w a little sunned, otherwise in very good condition, Pavilion Books in association with the National Trust 1989
22.8 x 22 cm, 950g, ISBN 1 85145 499 3
That is, in the United Kingdom and Ireland.
For some bizarre reason my digital camera (the book is too wide for our scanner) has accentuated the bluish tinge to the edge of the dustwrapper. On the real book the sunning is much less noticeable.
As can be seen from the book's weight and the substantial cloth binding, the publisher used heavyweight paper to better reproduce the colour photographs. The book is now long out of print and there is little chance it would ever be reprinted.
£7.50
(FREE UK Mainland delivery)
Click to enlarge images below