Railways
Books >
Railways
>
THE GREAT EASTERN RAILWAY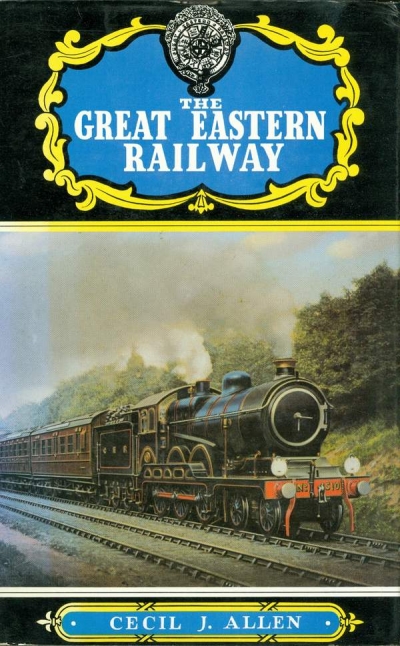 Allen, Cecil J.
THE GREAT EASTERN RAILWAY
Fourth Edition – Revised and Enlarged, b&w illustrations from photographs and engravings, locomotive performance tables in text, folding route-map at rear, appendix listing constituent companies forming the Great Eastern, index, x & 242 pp, grey boards in d/w, top corners bumped (see note below), d/w spine and rear edge sunned, otherwise in very good condition, Ian Allan 1967
21.4 x 13.4 cm, 600g, no ISBN
See below the description from the dustwrapper flap and the contents list.
The book was a school prize from Felsted School (very much in Great Eastern territory), and the presentation bookplate – in Latin, naturally! – is pasted inside the front cover. The school's crest is also imprinted on to the book's front cover, in silver to match the title on the book's spine. Having said that, the book has clearly been dropped on its top corner at some time, as not only are the boards bumped but the top corner of the book's pages all bear a slight but not too obtrusive kink.
This appears to have been the last revision to the book. Although a fifth edition was published in 1968, and later reissued in paperback, it has exactly the same pagination as this fourth edition.
£8.75
(FREE UK Mainland delivery)
Click to enlarge images below