Motor Racing & Rallying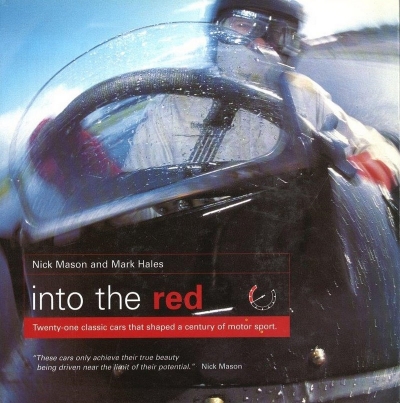 Mason, Nick & Hales, Mark
INTO THE RED
Twenty-One Classic Cars that Shaped a Century of Motor Sport, very numerous illustrations from colour photographs, specification tables for each car, Silverstone circuit diagram and comparative performance tables, audio CD in card pocket inside front cover, 176 pp, black boards in d/w, small dents to spine and front cover, otherwise in very good condition, Virgin Books 1998
27 x 26.3 cm, 1280g, ISBN 1 85227 717 3
Unlike most copies of this book offered for sale, the CD is present. The sound of the BRM V16 is probably worth the price of the book . . . . !
The other four cars driven but not listed on the CD pocket (below) are the 1935 Aston Martin Ulster, the 1949 Frazer Nash Le Mans Replica, the 1959 Maserati T61 Birdcage and the 1989 Ferrari F40.
See below the descriptions from the dustwrapper flap and from the rear of the dustwrapper.
£13.50
(FREE UK Mainland delivery)
Click to enlarge images below