Early Modern Literature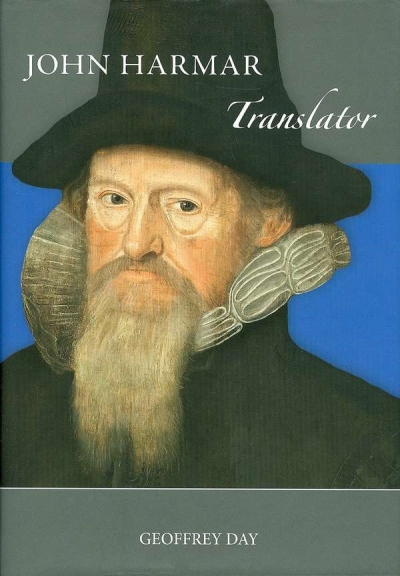 Day, Geoffrey
JOHN HARMAR
Translator, colour portrait frontispiece and very numerous colour illustrations from portraits, contemporary engravings and printed documents, book bindings and modern photographs (see specimen illustrations below), contemporary engraving of Winchester College on endpapers, appendix listing Harmar's publications, bibliography and index, viii & 256 pp, royal blue cloth in d/w, top and bottom edges of d/w a trifle curled, small spot on closed fore-edge of pages, otherwise in fine condition, The Warden and Fellows of Winchester College (Winchester, Hampshire) 2016
24.5 x 17 cm, 1120g, no ISBN
C.1555-1613, one of the chief translators of the King James Bible, and also Warden (that is, headmaster) of Winchester College. See below the description of the book from the dustwrapper flap. There is also an excellent potted biography of John Harmar on the Literary Winchester website (https://literarywinchester.org.uk/authors/john-harmar/), with details of locations to visit in Winchester connected to Harmar.
Despite the book's recent date, it is a real bibliographical conundrum. It has no International Standard Book Number, so presumably is not intended to be offered to the general public. There are very few mentions of the book anywhere on the internet – though it is mentioned once (with the wrong date) in an arcane Dutch collection of essays entitled 'Labourers in the Vineyard of the Lord : Erudition and the Making of the King James Version of the Bible'. There is no mention of the book in the Wikipedia entry on John Harmar. Google Books says there are copies of the book in Oxford University Library, the Library of Trinity College, Dublin and the National Library of Scotland, but nowhere else. No bookseller anywhere in the world is shown as having the book for sale. Yet the book is beautifully produced, bound in cloth, printed on high-quality heavy paper and profusely illustrated, and is clearly a work of the most painstaking scholarship.
Finally, there is not even a hint of the book's existence on the Winchester College website – which, incidentally, now has our award for The Most Convoluted Website. Why was such a scholarly book produced if there was no intention to sell it?
The book is printed on heavyweight glazed paper so as to better reproduce the many colour illustrations. This means that the book would cost a good deal to send abroad. If you live outside the UK, please email us at enquiries@monkshillbooks.co.uk and we will quote you a carriage cost before you place your order.
£36.00
(FREE UK Mainland delivery)
Click to enlarge images below