Railways
Books >
Railways
>
MAPPING BRITAIN'S LOST BRANCH LINES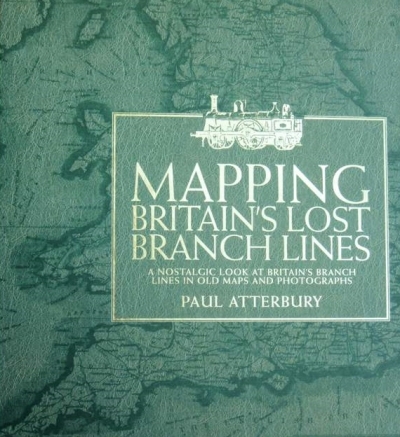 Atterbury, Paul
MAPPING BRITAIN'S LOST BRANCH LINES
A Nostalgic Look at Britain's Branch Lines in Old Maps and Photographs, very numerous photographic illustrations in colour and b&w (see specimen page below), colour reproductions of advertisements, posters, railway tickets, luggage labels and rules and regulations, numerous colour maps, index, 256 pp, green pictorial boards with gilt lettering (no d/w, but none was ever issued), in fine condition, David & Charles (Newton Abbot, Devon) 2013
26 x 23.9 cm, 1240g, ISBN 978 1 44630 283 5
See below the descriptions from the book's introduction and the book's rear cover.
Despite the fact that the Website That Is Intent on World Domination shows the book as available new at £25.00 (but 'usually dispatched within 2-4 weeks', which indicates that they do not hold any stock), the publisher's website does not mention the book at all. We conclude from this that the book is actually out of print.
Beware – this is a large and heavy book and would cost a fortune to send abroad. If you are outside the U.K. and are thinking about buying it, please email us first on enquiries@monkshillbooks.co.uk and we will quote a price for postage.
£16.75
(FREE UK Mainland delivery)
Click to enlarge images below