Art
Books >
Art
>
MASTERS' BADGES OF THE CITY OF LONDON LIVERY COMPANIES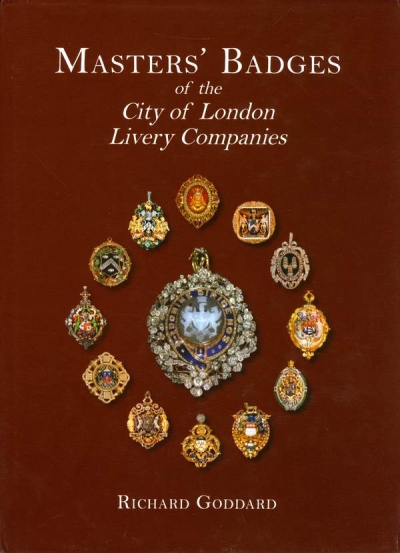 Goddard, Richard
MASTERS' BADGES OF THE CITY OF LONDON LIVERY COMPANIES
Colour photograph frontispiece and 110 plates from colour photographs of the badges, with description and historical details on the facing page (see specimen pages below), 24 pp introduction, appendices, bibliography, xvi & 256 pp, maroon boards in d/w, top edge of d/w a trifle bent with tiny tears, otherwise in very good condition, Phillimore (Andover, Hampshire) 2011
27.3 x 19.5 cm, 1420g, ISBN 978 1 86077 727 1
See below the description from the dustwrapper flap.
Each badge is photographed at, or very near to, its actual size – see the specimen page below, with an enlargement to show the quality of the image. As can be seen from the book's weight, the publisher used heavyweight glazed paper to better reproduce the colour photographs.
The book is not stated to be a limited edition, though it contains a list of subscribers which runs to 434, and we would suspect not many more than that were printed. At any rate, the book is now out of print.
Beware – this is a heavy book and would cost a good deal to send abroad. If you are outside the U.K. and are thinking about buying it, please email us first on enquiries@monkshillbooks.co.uk and we will quote a price for postage.
£67.50
(FREE UK Mainland delivery)
Click to enlarge images below