General History
Books >
General History
>
ORGAN FAMILY HISTORY OF BERKELEY AND NORTH NIBLEY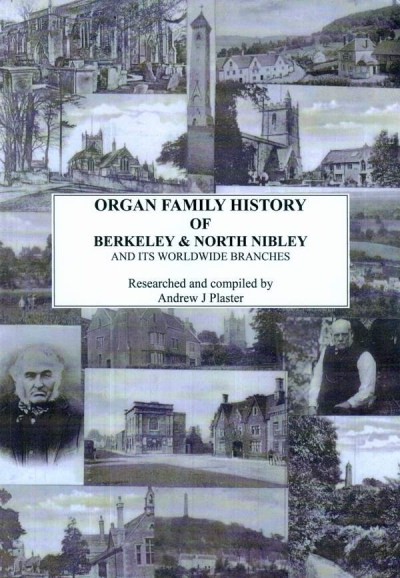 Gloucestershire - Plaster, Andrew J.
ORGAN FAMILY HISTORY OF BERKELEY AND NORTH NIBLEY
And Its Worldwide Branches, numerous b&w illustrations from photographs, portraits, paintings and drawings, reproductions of old maps and documents, genealogical tables of each of the many branches (see specimen below), appendix and location index, 347 pp, paperback, top corner of front cover slightly bent, otherwise as new, privately published, 2010
29.2 x 20.1 cm, 900g, no ISBN
It is not obvious from the slightly confusing title that this is a genealogical history of the Gloucestershire family with the surname Organ. (The derivation of the name has never been definitively established, but the most likely is probably an Anglicisation of the Irish surname O'Regan). As can be seen from the size and weight of the book, it is the result of a vast amount of detailed research.
Berkeley is a small town close to the Severn estuary roughly half-way between Bristol and Gloucester, and North Nibley is five miles to the south-east. The main overseas branches of the family are in New South Wales, Victoria and Queensland in Australia, Canada and the south of the USA.
The book is still available from the author at £23.80 (including UK postage).
Beware – this is a large and heavy book and would cost a good deal to send abroad. If you are outside the U.K. and are thinking about buying it, please email us first on enquiries@monkshillbooks.co.uk and we will quote a price for postage.
£12.50
(FREE UK Mainland delivery)
Click to enlarge images below