General History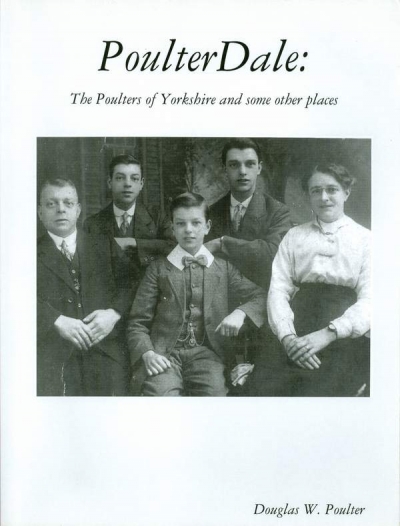 Yorkshire - Poulter, Douglas W.
POULTERDALE
The Poulters of Yorkshire and Some Other Places, b&w illustrations from photographs, portraits, reproductions of old documents and maps, extensive appendices (pp 239-452) giving genealogical tables of the various branches of the family (see specimen page below), list of sources and index, xvi & 491 pp, paperback, edges of covers a trifle rubbed, otherwise in very good condition with uncreased spine, privately published (Palm City, Florida, USA) 2009
27.8 x 20.8 cm, 1310g, no ISBN
Another bizarre title – there is no Poulterdale in Yorkshire, nor do members of the family appear to hail from any of the Yorkshire Dales in particular. The 'some other places' include the English counties of Cambridgeshire, Hampshire, Essex and Hertfordshire, and overseas Canada, the USA, Australia and South Africa. As can be seen from the size and weight of the book, it is the result of a vast amount of detailed research. See below the description from the book's rear cover.
The book remains available in this country on a print-to-order basis at £15.23 including postage.
Beware – this is a heavy book and would cost a good deal to send abroad. If you are outside the U.K. and are thinking about buying it, please email us first on enquiries@monkshillbooks.co.uk and we will quote a price for postage.
£8.75
(FREE UK Mainland delivery)
Click to enlarge images below