Car & Motorcycle Manuals etc.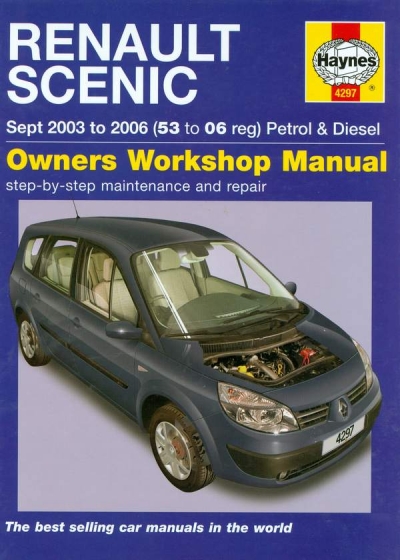 RENAULT SCENIC
Sept 2003 to 2006 (53 to 06 reg.) Petrol & Diesel, Haynes number 4297, Haynes Publishing (Yeovil, Somerset) 2006
26.9 x 20.6 cm, 740g, ISBN 1 84425 297 3
Haynes manuals are something of an institution, and all describe a strip-down and rebuild of a new vehicle. The procedures to carry out a particular task (for example the replacement of the steering ball-joints) are fully described, with descriptive photographs or line-drawings, including exploded views where necessary. Each task is graded according to its difficulty, from one spanner for easy to five spanners for a task which should really have been given to your local specialist garage, but which you can try if you are feeling brave. Each manual has a section on fault finding, a glossary of technical terms and an index. See the description below from the book's rear cover.
Each volume is bound in glazed pictorial boards, and is printed on paper which shows a tendency to brown at the edges. Also please bear in mind that these are secondhand copies, and may well have the odd oily thumb-print on the page you are looking at.
Haynes are to be congratulated for keeping so many of these manuals in print, but most of the manuals still in print are only available in a paperback edition, which is rather less durable than the wipe-clean cover of the original hardback edition. This particular manual for the Renault Scenic is still in print in paperback at £22.99.
£8.75
(FREE UK Mainland delivery)
Click to enlarge images below