Wild Animals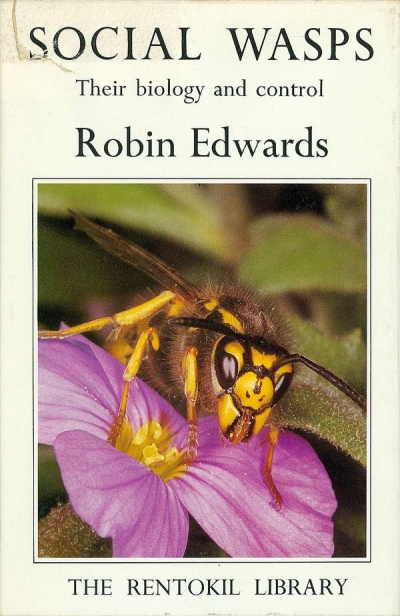 Edwards, Robin
SOCIAL WASPS
Their Biology and Control, Rentokil Library series, colour frontispiece and 8 pp colour plates from photographs, very numerous b&w illustrations in text from photographs and line drawings, numerous diagrams, tables in text, appendix giving checklist of vespinae of the world, extensive bibliography and author index, subject index, signed presentation inscription from author on front fly-leaf (see picture below), 398 pp, black boards in d/w, small tear to d/w (neatly repaired) at top of front cover, top edge of closed pages a little spotted, otherwise in very good condition, Rentokil Limited (East Grinstead, West Sussex) 1980
23.4 x 14.8 cm, 1000g, ISBN 0 90656 401 8
See the description below from the dustwrapper flap. Rentokil's Library of Common Pests must be one of the oddest libraries ever. Each volume in the Library stands on its own.
The previous owner repaired the dustwrapper tear with Sellotape, which now shows through slightly. This is also one of those books where the glazing lamination for the dustwrapper was shorter than the dustwrapper itself, leaving an unsightly dirty line at top and bottom. I only mention these trivial faults because we are asking a substantial sum for the book.
The book now seems to be extremely scarce, and copies available online range from £67.88 to £232.35 (and that claims to be a paperback!). I haven't got the cheek . . .
As the publisher used heavyweight paper to to better reproduce the photographs, and as the book would weigh over 1 kg by the time it was packed for the post, it would cost a good deal to send the book abroad. If you are outside the U.K. and are thinking about buying it, please email us first on enquiries@monkshillbooks.co.uk and we will quote a price for postage.
£36.00
(FREE UK Mainland delivery)
Click to enlarge images below