Medieval Literature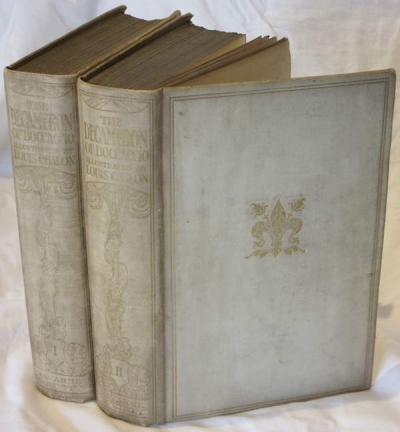 Boccaccio, Giovanni
THE DECAMERON
Faithfully Translated by J.M. Rigg, with an Illustrated Introduction and 15 Photogravures from Original Drawings by Louis Chalon, 2 volumes, illustrations tipped-in with tissue guards, title-pages printed in black and red, (1) xxii & 332 pp, (2) xvi & 404 pp, cream buckram with gilt designs on spine and front cover, top edge gilt, others uncut, edges of covers and corners a little rubbed, spines darkened, but bindings good, some slight spotting to margins of pages, particularly first and last few pages of each volume, but a good usable pair, Privately Printed for the Navarre Society, undated (c.1920)
22.7 x 14.4 cm, 2010g, no ISBN
Originally composed in the 1350s, a century before printed books appeared. It was one of the earliest printed books, an edition being published in Venice in 1471. This Rigg translation is the first publicly-available translation into English – an earlier translation in 1886 was only for private circulation.
There seems to be a bewildering profusion of editions of the Rigg translation with the Chalon illustrations :
(1) Two-volume sets published in London by A.H. Bullen in 1903 and Henry Bumpus in 1906, both in red cloth but with only 12 b&w illustrations;
(2) This two-volume set published by the Navarre Society, undated, in cream buckram with 15 b&w illustrations;
(3) A two-volume set published by the Navarre Society, undated, in either red or green cloth, with dustwrappers and 16 hand-coloured illustrations;
(4) A one-volume edition published by the Navarre Society, undated, in red cloth with dustwrapper and 16 hand-coloured illustrations.
We have not seen a copy of this book with coloured illustrations, but the illustrations were undoubtedly originally drawn in black and white (see specimen illustration below), and we rather doubt they would take well to being coloured afterwards.
On the verso of the half-title of each volume is a statement that "this edition is strictly limited", see the picture below, but the book is not numbered and there seems to be no way of establishing what the limitation (if any) actually was.
This two-volume edition with b&w illustrations may originally have had dustwrappers, but we cannot find any set for sale which has them. The (probably) later edition with coloured illustrations certainly had dustwrappers, but they are very plain and boring, and add nothing to the book except perhaps a spurious scarcity value.
These are heavy books (the pair weigh over 2 kilogrammes), and would cost a good deal to send abroad. If you are outside the U.K. and are thinking about buying it, please email us first on enquiries@monkshillbooks.co.uk and we will quote a price for postage.
£24.00
(FREE UK Mainland delivery)
Click to enlarge images below