Architecture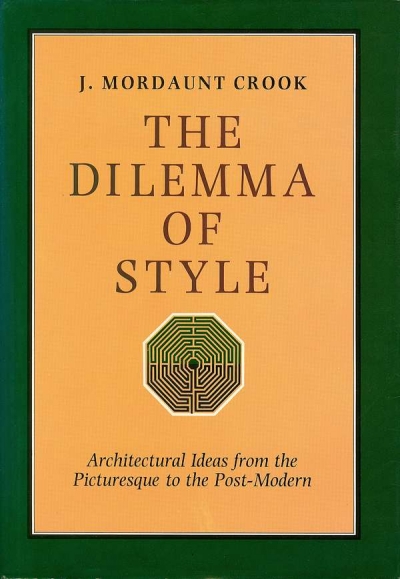 Crook, J. Mordaunt
THE DILEMMA OF STYLE
Architectural Ideas from the Picturesque to the Post-Modern, very numerous b&w illustrations from engravings, drawings and photographs (see specimen page below), architectural plans, extensive notes and references, bibliography and index, 348 pp, brown cloth in d/w, spine of d/w a little faded, inscription on front endpaper, otherwise in very good condition, John Murray 1987
24.6 x 16.8 cm, 1090g, ISBN 0 71954 114 X
See the description below from the dustwrapper flap.
A paperback edition was published in 1989, and most of the copies you will find for sale will be of that edition. However, a substantial book intended as a work of reference should surely be a properly bound hardback, as our copy is.
All editions are now out of print.
As the book was intended as a work of reference, the publisher used heavyweight paper to better reproduce the many illustrations, so it would cost a good deal to send the book abroad. If you are outside the U.K. and are thinking about buying it, please email us first on enquiries@monkshillbooks.co.uk and we will quote a price for postage.
£14.50
(FREE UK Mainland delivery)
Click to enlarge images below