Collecting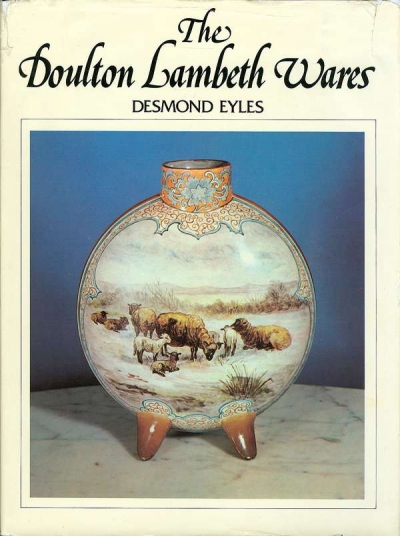 Eyles, Desmond
THE DOULTON LAMBETH WARES
Colour frontispiece, 48 pp colour plates and 56 pp b&w plates from photographs, text xii & 179 pp, occasional line illustrations in text, appendices giving marks employed by each artist, lists of impressed or printed marks and glossary, blue cloth in d/w, d/w with tears and creases (but all neatly repaired), bottom corners of boards a trifle rubbed, otherwise in very good condition, Hutchinson 1975
27.5 x 20.5 cm, 1470g, ISBN 0 09124 240 1
The state of the dustwrapper would suggest that this might have been an antique dealer's reference copy, but there are no marks or annotations in the book itself.
See the description below from the dustwrapper flap.
Despite the book being the definitive work on Lambeth ware, Hutchinson allowed the book to go out of print. The rights to the book later passed to Richard Dennis Publications, who issued a revised edition in 2002. This remains in print and is available from the publisher for £38.50 post paid.
As the book was intended as a work of reference, the publisher used heavyweight paper to better reproduce the many photographs, so it would cost a good deal to send the book abroad. If you are outside the U.K. and are thinking about buying it, please email us first on enquiries@monkshillbooks.co.uk and we will quote a price for postage.
£12.50
(FREE UK Mainland delivery)
Click to enlarge images below