Aircraft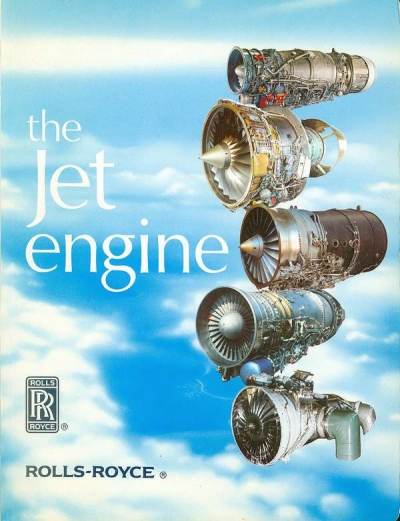 Anon.
THE JET ENGINE
4th edition, very numerous illustrations from coloured drawings and diagrams (see specimen pages below), graphs in text, b&w photographs of Rolls-Royce jet engines and their early predecessors, appendix giving conversion factors, viii & 278 pp, sewn paperback, edges of covers a little rubbed, otherwise in very good condition, Rolls-Royce plc (Derby) 1986
27.8 x 20.7 cm, 900g, ISBN 0 90212 104 9
Or, everything you wanted to know about a jet engine but were afraid to ask . . . See below the book's short introduction.
There is no hint in the book either of the authors or the artists (some of the coloured drawings are almost worth framing), but they certainly spent a lot of time and effort putting this together.
As befits an engineering company, Rolls-Royce knew a paperback's corners would get bent in use, so they rounded them off!
The book eventually reached a 5th edition in 2005, but was taken over by the publisher Wiley in 2015, and remains in print, still only in paperback, at a steep £50.46.
£12.50
(FREE UK Mainland delivery)
Click to enlarge images below