Nautical
Books >
Nautical
>
THE VOYAGES OF JOSHUA SLOCUM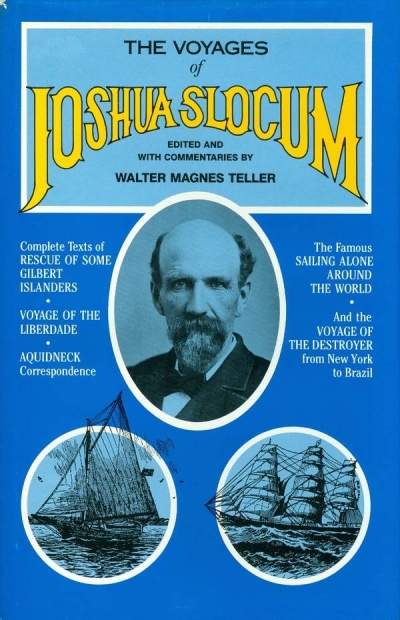 Slocum, Captain Joshua
THE VOYAGES OF JOSHUA SLOCUM
A Complete Collection of All Slocum's Known Writings (except letters), Edited and with Commentaries by Walter Magnes Teller, Special Anniversary Edition, b&w illustrations from photographs and line-drawings, maps (including map of round-the-world voyage on endpapers), appendix listing Slocum's published works, bibliography, x & 401 pp, navy blue cloth in d/w, top of spine of d/w a little rubbed with small tear neatly repaired, very slight spotting to closed fore-edge of pages, otherwise in very good condition, Sheridan House (Dobbs Ferry, New York) 1995
23.3 x 15.1 cm, 920g, ISBN 0 91137 855 3
Slocum was the first to sail single-handed round the world, though it took him over three years to do it.
The individual sections of the writings are listed on the dustwrapper – see also below the description from the dustwrapper flaps.
Surprisingly, the book is still in print, in this 'special anniversary edition', even though the anniversary was in 1995. It is available in this country at £19.95.
£8.75
(FREE UK Mainland delivery)
Click to enlarge images below