Gardening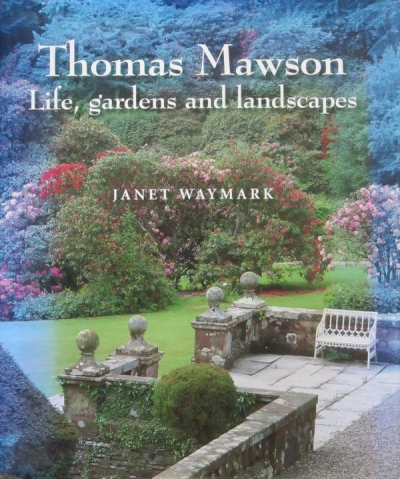 Waymark, Janet
THOMAS MAWSON
Life, Gardens and Landscapes, very numerous colour photo illustrations, other b&w photo illustrations taken in earlier periods, line-drawings and engravings, very numerous layout plans (some coloured, see picture below), notes, appendix giving list of Mawson's commissions, bibliography and index, 240 pp, grey boards in d/w, edges of covers a trifle bumped and rubbed along bottom edge, tiny tear to d/w neatly repaired, otherwise in very good condition, Frances Lincoln Publishers 2009
30.3 x 24.3 cm, 1820g, ISBN 978 0 71122 595 4
See below the description from the dustwrapper flap.
This copy has clearly been sitting in a pile of smaller books on someone's coffee-table for a considerable time, as only part of the dustwrapper pictures on the front and rear covers display their original colours. However, the book's contents, and its binding, are in very good condition.
Despite The Website That Is Intent on World Domination claiming that the book is still available at £40.00 new (though stating 'usually dispatched within 2 to 4 weeks', which implies they do not themselves hold any stock), the publisher's website does not mention the book at all. We take this to mean that the book is in fact out of print. The lavish production standards and the heavyweight glazed paper used to reproduce the many colour photos mean that it is almost inconceivable the book would be reprinted in this age of austerity.
Beware – this is a heavy book and would cost a good deal to send abroad. If you are outside the U.K. and are thinking about buying it, please email us first on enquiries@monkshillbooks.co.uk and we will quote a price for postage.
£17.75
(FREE UK Mainland delivery)
Click to enlarge images below