Art
Books >
Art
>
VISION & ACCIDENT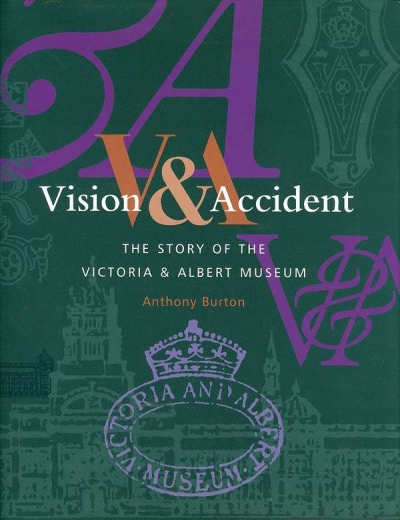 Burton, Anthony
VISION & ACCIDENT
The Story of the Victoria & Albert Museum, frontispiece and very numerous b&w illustrations from photographs, engravings, portraits and line-drawings, plans of the museum, bibliographic notes at the end of each chapter, index, 264 pp, blue-green boards in d/w, slight spotting (from coffee?) to closed edge of pages, otherwise in very good condition, V&A Publications 1999
27.5 x 20.8 cm, 1490g, ISBN 1 85177 292 8
That is, in London – those who work in the V&A (as I did, for a while) seem to think that it represents the centre of the universe and needs no further explanation . . .
See the description below from the dustwrapper flap, and from the rear cover. This must be the definitive history of the museum, printed in double columns in a small typeface (see specimen page below). It is now out of print, and was priced at £45 in 1999, which would correspond to £80 in today's money. This leads me to believe the print run was small, and certainly other booksellers are charging a minimum of £60 for their copies.
This is a large book, and the museum used heavyweight paper to better reproduce the many illustrations, so it would cost a good deal to send the book abroad. If you are outside the U.K. and are thinking about buying it, please email us first on enquiries@monkshillbooks.co.uk and we will quote a price for postage.
£48.00
(FREE UK Mainland delivery)
Click to enlarge images below