Medieval History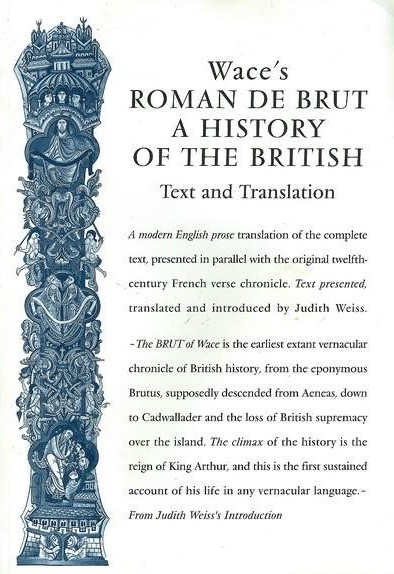 Weiss, Judith (editor & translator)
WACE'S 'ROMAN DE BRUT'
A History of the British – Text and Translation, introduction, French text in double columns with English prose translation on opposite page, textual notes on each page, bibliography and index of names of persons mentioned, xxx & 385 pp, sewn paperback (see below for note on condition), University of Exeter Press 1999
24.7 x 16.9 cm, 860g, ISBN 0 85989 591 2
See below the description from the book's rear cover.
The book's condition is difficult to describe. The entire book is crinkled, as if it had once been kept in a damp basement, and there are small sections eaten (by silverfish?) from the inside bottom corner of the cover and the first two pages! The corners of the covers are also bent. However, the book does NOT smell damp, there is no sign of mould anywhere and the binding is solid. Nor are there any annotations or marks on the text. I would describe it as a good usable copy for a student.
The book was only ever published in paperback and is now out of print, although The Website That Is Intent on World Domination still has a few copies of 'new old stock' at £24.99.
£12.75
(FREE UK Mainland delivery)
Click to enlarge images below