Military History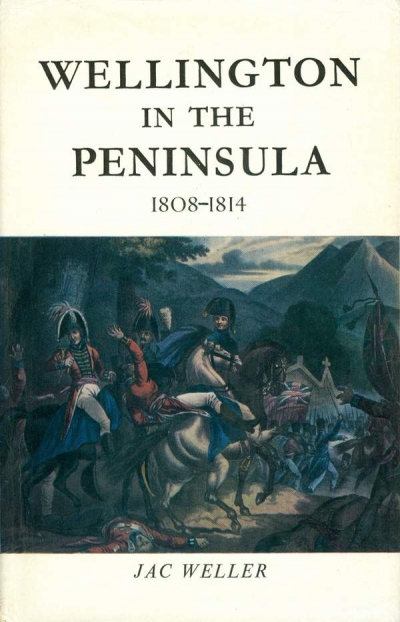 Weller, Jac
WELLINGTON IN THE PENINSULA 1808-1814
Portrait frontispiece and b&w illustrations from the author's photographs, 21 maps and battle-plans, folding map of the peninsula, extensive notes under text, chronology of the war, bibliography and index, 395 pp, green cloth in d/w, d/w a little rubbed and creased at extremities, slight damp-marking to cloth of spine and rear cover (see picture below) but no sign of damp-marking to book itself, otherwise in very good condition, Purnell Book Services for the Military Book Society 1973
21.5 x 13.2 cm, 800g, no ISBN
See below the description from the dustwrapper flap.
An early example of a book club book almost indistinguishable from the Kaye & Ward original edition. The book was later taken over by Frontline and is still available in their Pen & Sword series, but only in paperback, at £16.99.
The hardback edition now seems to be scarce, and other booksellers are charging well over £40. That seems a little unreasonable to us when the book is still in print.
£10.00
(FREE UK Mainland delivery)
Click to enlarge images below