Aircraft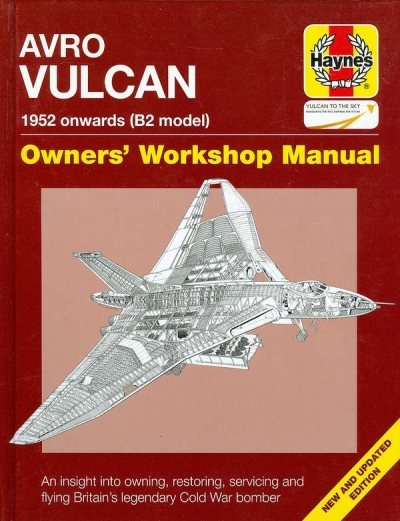 Price, Alfred & others
AVRO VULCAN
1952 onwards (B2 model) Owners' Workshop Manual – New and Updated Edition, very numerous illustrations from photographs (mostly in colour, a few early ones in b&w), numerous diagrams and cutaway views, list of surviving Vulcans, glossary and index, 188 pp, pictorial glazed boards (no d/w, but there never was one), very slight crinkling to bottom edge of pages, otherwise as new, Haynes (Yeovil, Somerset) 2018
26.9 x 20.3 cm, 850g, ISBN 978 1 78521 083 9
See below the description and pictures of specimen pages from the book's rear cover.
Despite the book's recent date, it is now out of print. The fact that no Vulcan in the world is now flying may have something to do with that.
I have vivid memories of the Vulcan's low-level display at the Goodwood Festival of Speed in 2011 (see picture below). The rooks probably still remember it too!
Beware – many of the copies of this book offered for sale at inflated prices are of the 2010 first edition.
£24.00
(FREE UK Mainland delivery)
Click to enlarge images below