Medieval Literature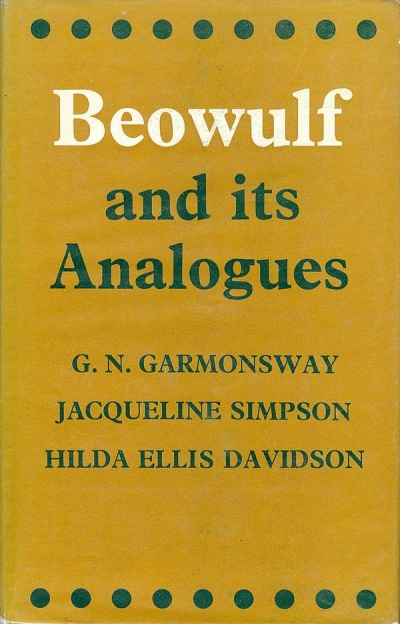 Garmonsway, G.N. & Simpson, Jacqueline (translators)
BEOWULF AND ITS ANALOGUES
8 pp b&w photo illustrations, appendix (by Hilda Ellis Davidson) on archaeology and Beowulf (with an archaeological bibliography), genealogical tables, index of sources, xiv & 368 pp, green cloth in d/w, the front free endpaper has been neatly replaced, but there are no library markings anywhere (see note below), edges of covers rubbed, marks to closed top edge of pages, small tears to edges of d/w (which is in a plastic sleeve), spine of d/w faded, but altogether a good usable copy, Dent 1968
21.5 x 13.5 cm, 610g, SBN 46003 804 4
Almost certainly a publisher's pre-production copy – the title-page does not mention the archaeological appendix or the half-tone plates as later copies of the book do (though both the appendix and the plates are present in this copy), and the verso of the title-page is blank and does not bear the usual publisher's copyright details and date of publication. The date of 1968 is, however, on the rear flap of the dustwrapper.
See the description (below) from the dustwrapper flaps.
All the analogues are translated into English.
Dent republished the book as a paperback in 1980, but even that is long out of print.
£12.00
(FREE UK Mainland delivery)
Click to enlarge images below