Classical Literature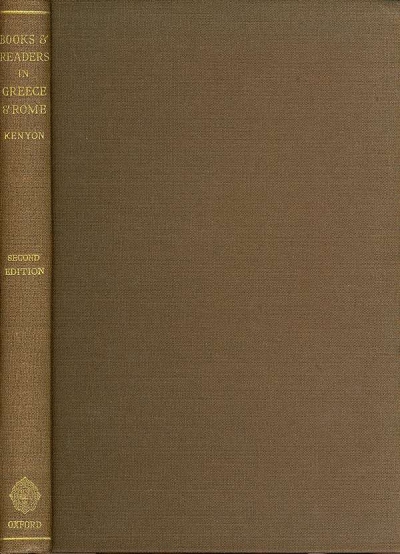 Kenyon, Frederic G.
BOOKS AND READERS IN ANCIENT GREECE AND ROME
2nd edition, b&w illustrations from photographs and engravings, notes under text, appendix giving illustrative passages from Latin authors (but not translated), index, viii & 136 pp, brown cloth, no d/w, closed edges of pages a little spotted, otherwise in very good condition, Oxford University Press 1951
18.3 x 11.7 cm, 220g, no ISBN
See the description below from the preface to the first edition.
Beware – the American paperback reprint of this book, available in this country for £14.34, is of the 1932 first edition – see below the preface to the second edition. Even so, the author died in 1952, so UK copyright applies till 2022. Perhaps Oxford University Press thought the matter was de minimis . . .
£8.75
(FREE UK Mainland delivery)
Click to enlarge images below