Medieval History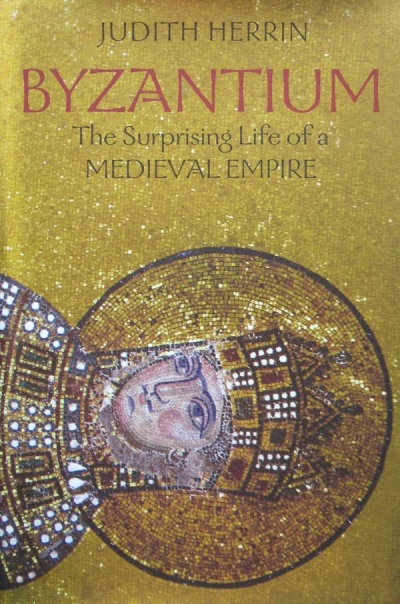 Herrin, Judith
BYZANTIUM
The Surprising Life of a Medieval Empire, b&w photo illustrations from sculptures, frescoes, illuminated manuscripts and artefacts, 8 pp colour plates, 6 maps (5 double-page), chronology, bibliography and index, xxiv & 392 pp, purple boards with black cloth spine, in d/w, in almost as-new condition, Princeton University Press (Princeton, New Jersey) 2008
23.3 x 14.7 cm, 800g, ISBN 978 0 69113 151 1
The author is Professor of Byzantine Studies at King's College, London.
See below the description from the dustwrapper flap. On the Princeton University Press website (https://press.princeton.edu/titles/8470.html) there are numerous extracts from reviews of the book. The Website That Is Intent on World Domination has copied these en bloc (quite literally) and reproduced them on its own website without separating them. The result is is an entire screen of text in tiny type, and is so difficult to read that it is the current holder of our award for the Least Helpful Book Advertisement.
The book is now available only in paperback from Penguin at £10.99, or from Princeton in the USA at £17.99. Our copy is a proper sewn hardback and so will be much easier to read.
The white spots on the dustwrapper are missing tiles from the mosaic photographed, and are not damage to the dustwrapper.
£8.75
(FREE UK Mainland delivery)
Click to enlarge images below