Cars & Motorcycles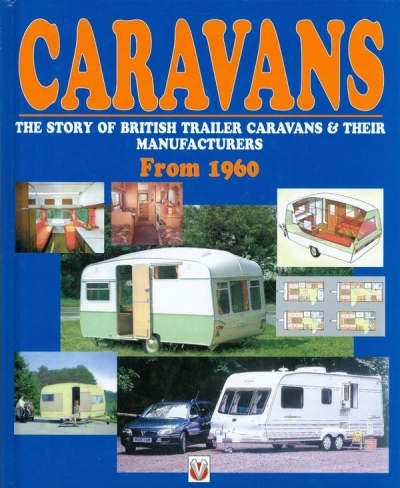 Jenkinson, Andrew
CARAVANS
The Story of British Trailer Caravans and Their Manufacturers from 1960, very numerous illustrations (mostly in colour) from photographs and contemporary advertisements, occasional plans and cutaway drawings in text, index, 96 pp, glazed pictorial boards (no d/w, but we think it very unlikely the book ever had one), bottom corners of covers a trifle rubbed, otherwise in very good condition, Veloce Publishing (Dorchester, Dorset) 1999
25 x 20.2 cm, 630g, ISBN 1 90129 553 2
See below the description from the book's rear cover. The author also wrote a companion volume on British caravans from 1919-1959, but each volume stands on its own.

Although the Veloce Publishing website still shows the book, as a paperback under the title 'Caravans – The Illustrated History – From 1960', the book is 'out of stock', which we take to mean 'out of print'. Veloce describe it as a 'new paperback edition', but the five sample pages it shows on the website match exactly the pages of this original hardback edition, and the paperback is also 96 pp, so we suspect it was a simple reprint.
It would appear very few copies were published, as booksellers are asking ridiculous prices even for the paperback edition. It was published at £14.99 in 1999, which would be just under £26 today, so it was not a cheap book even then.

£15.00
(FREE UK Mainland delivery)
Click to enlarge images below