Naval History
Books >
Naval History
>
THE DESIGN AND CONSTRUCTION OF BRITISH WARSHIPS 1939-1945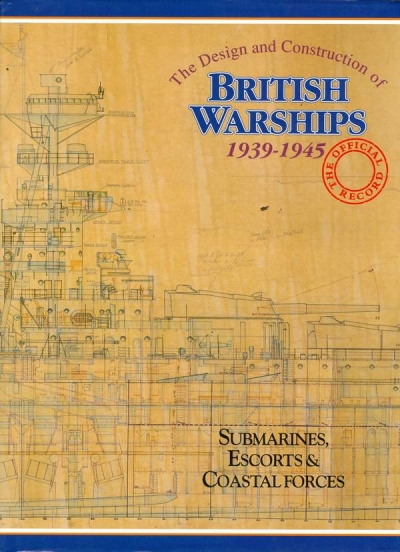 Brown, David K. (editor)
THE DESIGN AND CONSTRUCTION OF BRITISH WARSHIPS 1939-1945
The Official Record – Volume II – Submarines, Escorts and Coastal Forces, frontispiece and b&w illustrations from photographs, very numerous general arrangement drawings, plans and cross-sections of vessels (see specimen page below), key to abbreviations and terms used, index, 158 pp, maroon boards in d/w, top of spine of d/w a trifle creased, otherwise the book would pass for new, Conway Maritime Press 1996

26.9 x 19.7 cm, 750g, ISBN 0 85177 674 4
See the description below from the dustwrapper flap. Each volume of the series was published separately and stands on its own. See the contents list below for the categories of vessel covered in this volume.

Despite the extreme importance of the series to naval historians and model-makers, Bloomsbury (which now owns Conway) has allowed all three volumes to go out of print.
Please note the dustwrapper illustration was taken from an original official plan drawing, and the streaks down the page appear to have been damage to the original. The dustwrapper itself is not damaged.
£27.50
(FREE UK Mainland delivery)
Click to enlarge images below