Book Illustrations & Illustrators
Please scroll down for details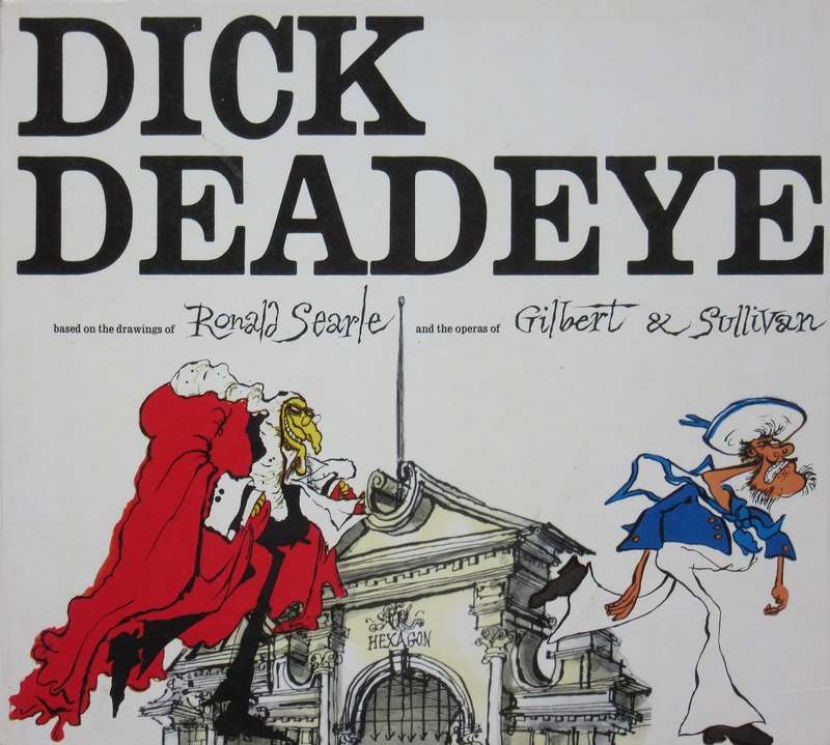 Click to enlarge images below
Searle, Ronald (illustrator) & Hornsby, Jeremy (author)
DICK DEADEYE
Based on the Drawings of Ronald Searle and the Operas of Gilbert & Sullivan, each page of text contains Searle's cartoons based on scenes from the animated film 'Dick Deadeye, or Duty Done' (see specimen page below), unpaginated (but in fact 72 pp), glazed pictorial boards (no d/w, but I believe that for this UK edition there never was one), top and base of spine a little rubbed, inscription on half-title covered up with an 'ex-libris' label, otherwise in very good condition, Jonathan Cape 1975
22.9 x 25.8 cm, 510g, ISBN 0 22401 056 5
See the description from the book's rear cover, though this is a very difficult book to describe. Basically it consists of a collection of Searle's cartoons based on his designs for a full-length animated film drawing heavily on (and mixing together) the Gilbert & Sullivan operettas. This book seems to have been issued as part of the advertising for the film.
The film was issued on VHS cassette, but does not appear to have made it on to DVD, and I have (alas!) never seen it. For a full description of the film I can only refer you to Dick Deadeye, or Duty Done - Wikipedia.
The book was also issued in the USA by Harcourt Brace, and (as frequently) American booksellers seem to have inflated ideas of the book's value.
£7.75
(FREE UK Mainland delivery)