Motor Racing & Rallying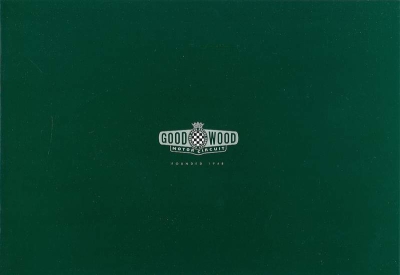 [Anon.]
ORIGINAL GOODWOOD ADVERTISING BROCHURE FOR FIRST REVIVAL MEETING 1998
Numerous b&w photo illustrations from Goodwood's first period of motor racing (1948-1966), coloured circuit map with Stirling Moss's descriptions of how he took each corner (see picture below), 12 pp, glazed British Racing Green card covers on stapled brochure, in glazed card envelope, BRG on external surfaces, silver on internal surfaces, with embossed 'pop-rivets' to make it look like aluminium, in very good condition, Goodwood Road Racing Company (Chichester, West Sussex) 1998
30 x 21.4 cm, 160g, no ISBN
A piece of motor-racing history. At the time I was living about half-a-mile from the historic Goodwood Motor Circuit, and I was Chairman of the Goodwood Supporters' Association, which helped the Duke of Richmond (as he is now) to obtain planning permission for the re-opening of the circuit. I was clearly given this brochure at some point in 1998, but it is a very high-quality production, and I wonder if it was intended mainly for corporate sponsors and to drum up support for corporate hospitality. I have been unable to find any other copy for sale on the internet.
The Revival Meeting is still very much a part of the motor-racing calendar, and I have attended each Revival since 1998.
In 2015 Brighton University calculated that the 2014 Revival Meeting contributed £35.5 million to the national economy and a further £8.5 million in VAT to HMRC.
£12.00
(FREE UK Mainland delivery)
Click to enlarge images below