Art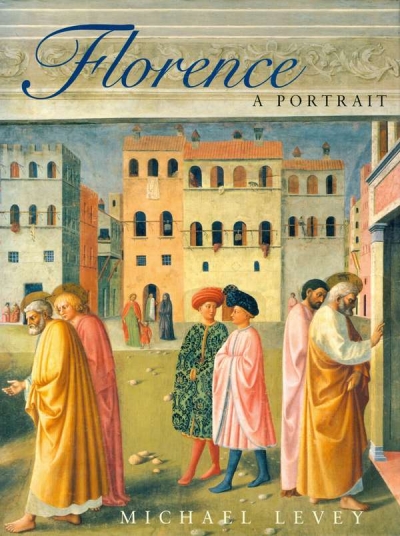 Levey, Michael
FLORENCE
A Portrait, very numerous illustrations (mostly in b&w, a few in colour) from paintings, sculptures and photographs, chronology, maps showing the city in 1500, 1700 and 1900, genealogical table of the Medici family, bibliography and index, xxx & 498 pp, black boards in d/w, presentation inscription on endpaper, top edge of d/w a little creased, slight spotting to closed top edge of pages, otherwise in very good condition, Jonathan Cape 1996
24.5 x 18 cm, 1580g, ISBN 0 22402 764 6
See the description below from the dustwrapper flap. The author was Director of the National Gallery in London between 1973 and 1986.
Despite the book weighing over a kilo and a half, it was also published in paperback, though quite how long such a paperback would survive we hesitate to suggest. At any rate, very few copies of this hardback edition appear to have been printed, and all editions are now out of print.
Beware – this is a large and heavy book and would cost a fortune to send abroad. If you are outside the U.K. and are thinking about buying it, please email us first on enquiries@monkshillbooks.co.uk and we will quote a price for postage.
£16.50
(FREE UK Mainland delivery)
Click to enlarge images below