Architecture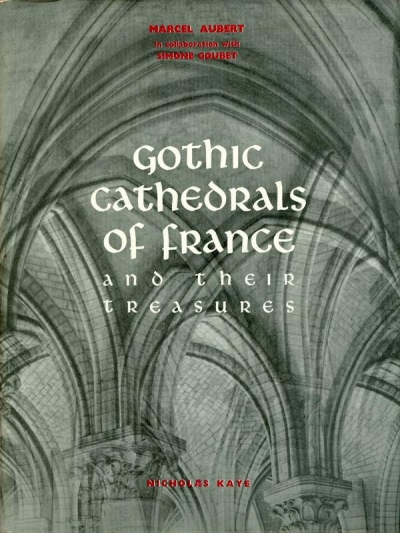 Aubert, Marcel & Goubet, Simone
GOTHIC CATHEDRALS OF FRANCE
and Their Treasures, Translated from the French by Lionel & Miriam Kochan, very numerous high-quality b&w photogravure illustrations (see specimen below), location map, folding ground-plans of cathedrals, glossary, bibliography and index, 170 pp (plus the 462 plates, which are not paginated), white cloth with gilt design on front cover (see picture below), in d/w, top and bottom edges of d/w a little rubbed, otherwise in very good condition, Nicholas Kaye 1959

24.1 x 17.6 cm, 1520g, no ISBN
See below the description from the dustwrapper flap.
While the text is entirely translated, the publisher clearly used the plates issued for the French edition, which have captions (albeit fairly short) in French.
Long out of print.
Beware – this is a heavy book and would cost a good deal to send abroad. If you are outside the U.K. and are thinking about buying it, please email us first on enquiries@monkshillbooks.co.uk and we will quote a price for postage.
£16.75
(FREE UK Mainland delivery)
Click to enlarge images below