Medieval Literature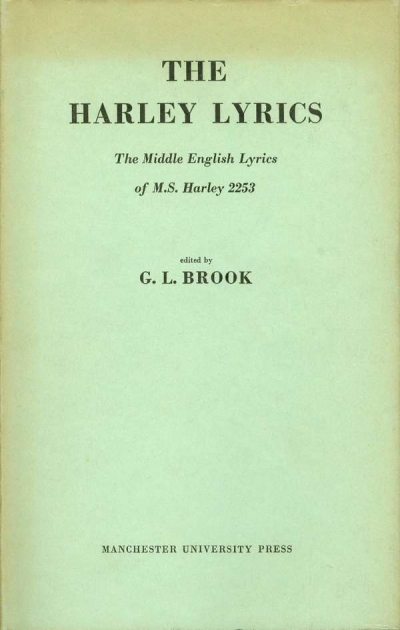 Brook, G.L. (editor)
THE HARLEY LYRICS
The Middle English Lyrics of MS. Harley 2253, 4th Edition, photo frontispiece of a page of the MS, x & 131 pp, consisting of introduction (pp 1-26), text (pp 29-72), notes (pp 73-88), glossary (pp 89-124), indexes of proper names & first lines and bibliography (pp 125-131), green boards in d/w, spine and top edge of d/w browned, top edge of closed pages spotted, slight foxing to first few pages, otherwise in very good condition, Manchester University Press 1968

21.6 x 13.5 cm, 340g, SBN 71900 116 1
That is, British Museum MS Harley 2253. See the description below from the dustwrapper flap.
This fourth edition was the last to be issued, and although reprinted in paperback in 1978, all editions are now out of print. Our copy is a proper sewn hardback.
Beware – many of the copies of this book offered by other booksellers are of earlier editions.
£9.75
(FREE UK Mainland delivery)
Click to enlarge images below