Music & Song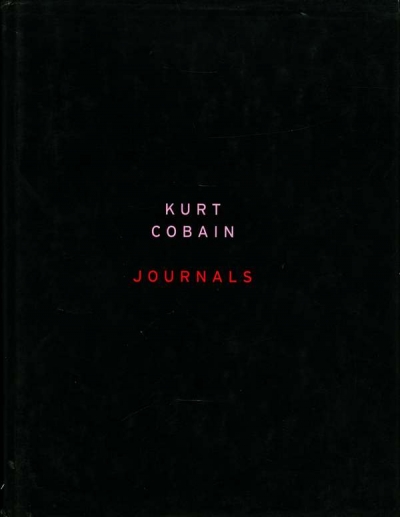 Cobain, Kurt
JOURNALS
Notes (mostly on the letters and draft letters included in this collection), 280 pp, glazed pictorial boards in d/w, d/w a little scratched and rubbed at extremities, otherwise in very good condition (but see note below), Viking 2002

27 x 20.5 cm, 1180g, ISBN 0 67091 370 7
See below the description from the dustwrapper flap.
The covers of the book under the dustwrapper reproduce the covers of two of the journals (see pictures below), which is why most of the copies for sale seem to lack the dustwrapper.
We're not sure whether the faint pink stain on the bottom edge and part of the way up the fore-edge are on all copies, or just this one. In any case, only the closed edges of the pages are affected, and there are no marks on the pages themselves.
Viking being the hardback imprint of Penguin Books, most of its books are just the Penguin paperback bound into hard covers, and will fall to bits when the glue dries out in ten years' time. Unusually, this copy is a proper sewn hardback, so it should last a good deal longer. The book is now out of print, even in paperback.

Beware – this is a large and heavy book and would cost a fortune to send abroad. If you are outside the U.K. and are thinking about buying it, please email us first on enquiries@monkshillbooks.co.uk and we will quote a price for postage.
£10.75
(FREE UK Mainland delivery)
Click to enlarge images below