General Transport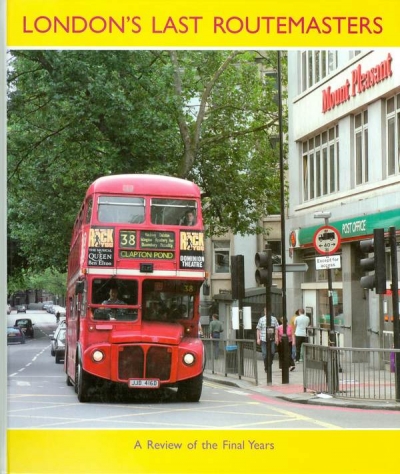 Stewart, David & others
LONDON'S LAST ROUTEMASTERS
A Review of the Final Years, very numerous colour photo illustrations (see specimen page below), reproductions of newspaper articles, 120 pp, pictorial glazed boards (no d/w, but we doubt there ever was one), in fine condition, Capital Transport, undated (but almost certainly 2005)
25 x 21.4 cm, 850g, ISBN 1 85414 295 X
That is, London's original AEC Routemaster double-deck bus, not the modern Thomas Heatherwick buses. Routemasters entered service in 1956 and were withdrawn in 2005 – though by popular demand Transport for London has reintroduced Routemasters on route 15 from Tower Hill to Trafalgar Square, so you can still travel on one. This book covers the scheduled services operated by Routemasters between 2003 and 2005, and the celebrations when they were withdrawn.
It is a little ironic that the single-deck articulated ('bendy') buses that replaced the Routemasters proved unsuitable for the narrow London streets and resulted in a massive increase in fare-dodging. They were withdrawn after a mere ten years.
This is an odd book in that it has no title-page or publication information, though the page-numbering shows nothing is actually missing. While Capital Transport have a number of other books available on the Routemaster, this book is out of print.
£8.75
(FREE UK Mainland delivery)
Click to enlarge images below