Literary Criticism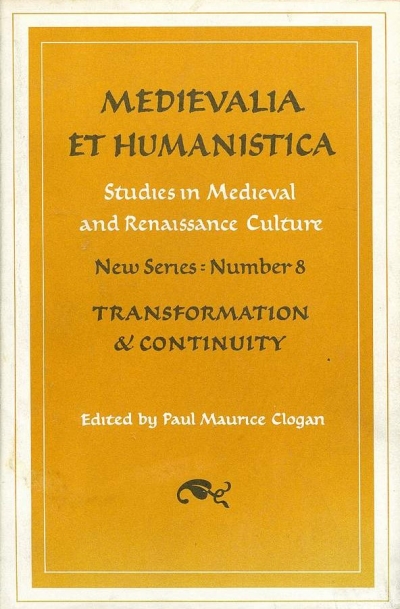 Clogan, Paul Maurice (editor)
MEDIEVALIA ET HUMANISTICA
Studies in Medieval & Renaissance Culture, New Series, No.8 – Transformation and Continuity, bibliographical notes at end of each article, appendices to one article, list of books received, xvi & 261 pp, red cloth in d/w, a few small marks on d/w, closed top edge of pages a little spotted, otherwise in very good condition, Cambridge University Press for the Medieval and Renaissance Society 1977
22.7 x 14.8 cm, 570g, ISBN 0 52121 783 0, ISSN 0076 6127
See below the description from the dustwrapper flap, and the contents list.
'Medievalia et Humanistica' is a series of articles produced and published annually in book form and released by Cambridge University Press in the UK and by Rowman & Littlefield in the USA. As one might expect, most of the (apparently very few) copies printed ended up in libraries. Our copy did not, and is free from "librarian vandalism".
Some of the series are still available from Rowman & Littlefield, but there is no mention of this volume on either their website or that of Cambridge University Press, and there is no ebook available.
£14.75
(FREE UK Mainland delivery)
Click to enlarge images below