Motor Racing & Rallying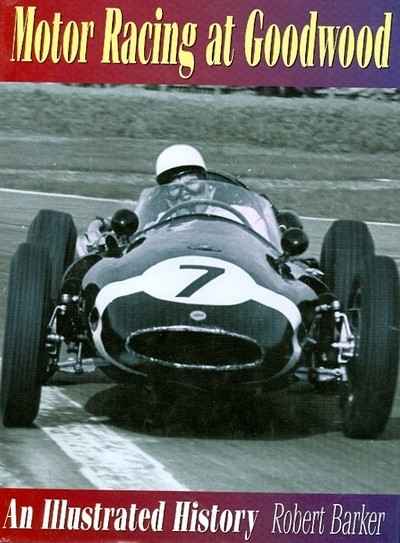 Barker, Robert
MOTOR RACING AT GOODWOOD
An Illustrated History, very numerous b&w photographs, circuit maps, appendix giving winners of all races to 1966, index, 240pp, maroon boards in price-clipped d/w, very good condition, Breedon Books (Derby) 2002
26 x 19 cm, 950g, ISBN 1 85983 282 2
Goodwood is only seven miles from here, and I can claim some of the credit for helping Lord March obtain planning permission to start motor racing again at the circuit.
This is not just a dry "A won this and B won that" account, and Barker gives potted biographies of selected drivers and some of the more interesting cars. The photographs are particularly good.
Yes, the front cover does fade from maroon to purple across the page – the copy on my bookshelf (bought new) does the same . . . .
Now out of print.
£21.00
(FREE UK Mainland delivery)
Click to enlarge images below