Military History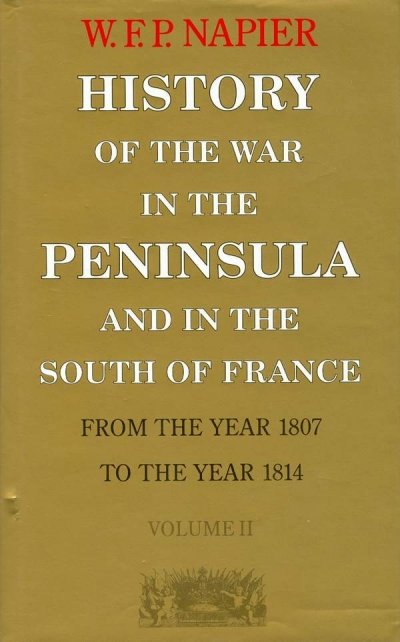 Napier, Colonel W.F.P.
HISTORY OF THE WAR IN THE PENINSULA
and in the South of France, From the Year 1807 to the Year 1814, Facsimile reprint of Second Edition of 1832, Volume 2 (ONLY), 8 plates giving maps and battle-plans, appendix giving the texts of contemporary documents and orders of battle, xii & 530 pp, brown boards in d/w, extremities of d/w (especially the top of the spine) a little creased, small dents to edges of spine of d/w (not penetrating to the boards), otherwise in very good condition, Constable 1993
21.5 x 13 cm, 890g, ISBN 0 09471 690 0
There were six volumes in all, but Constable (like the author originally) published each volume separately, giving each volume its own ISBN. Regrettably we only have Volumes 1 and 2. Also, for reasons best known to Constable, the set they used for their facsimile had different editions for the different volumes. See the description below from the dustwrapper flap.
Needless to say, this Constable reprint is now long out of print.
Beware – this is a heavy book and would cost a good deal to send abroad. If you are outside the U.K. and are thinking about buying it, please email us first on enquiries@monkshillbooks.co.uk and we will quote a price for postage.
£11.50
(FREE UK Mainland delivery)
Click to enlarge images below