Motor Racing & Rallying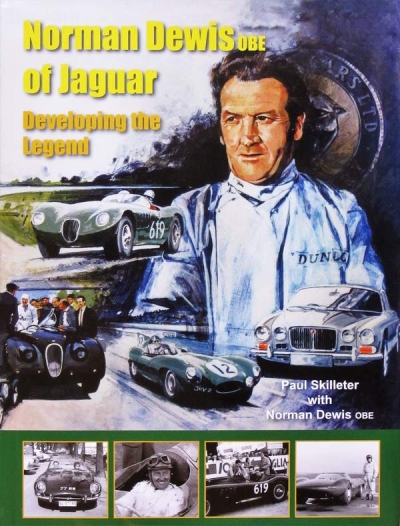 Skilleter, Paul with Dewis, Norman
NORMAN DEWIS O.B.E. OF JAGUAR
Developing the Legend, 7th printing, profusely illustrated from colour and b&w photographs, line-drawings, plans, cutaway drawings and diagrams, reproductions of contemporary documents, appendix giving Jaguar models in production during Norman's period at Jaguar, general index and index to chassis and registration numbers, 575 pp, black boards in d/w, would pass as 'new' in most other bookshops, PJ Publishing (Barton on Sea, Hampshire) 2017
29.6 x 21.6 cm, 2850g, ISBN 978 1 90865 815 9
See below the description from the dustwrapper flap and from the rear of the dustwrapper.
Norman Dewis died in June 2019 at the age of 98.
As you will see from the book's size and weight, this is the most comprehensive biography you could imagine, written and published by a noted Jaguar historian. The book was originally published in 2006, and although the book went through seven printings, it seems print runs were small. Most booksellers are selling their copies at around £160.
This 2017 printing appears to have been the final printing, and includes pictures of Norman receiving his OBE from Prince Charles in 2015.
There is no mention of the book on PJ Publishing's website, which leads us to believe it is unlikely the book will ever be reprinted.
As this is a large and heavy book, it would cost a fortune to send the book abroad. If you are outside the U.K. and are thinking about buying it, please email us first on enquiries@monkshillbooks.co.uk and we will quote a price for postage.
£120.00
(FREE UK Mainland delivery)
Click to enlarge images below