Naval History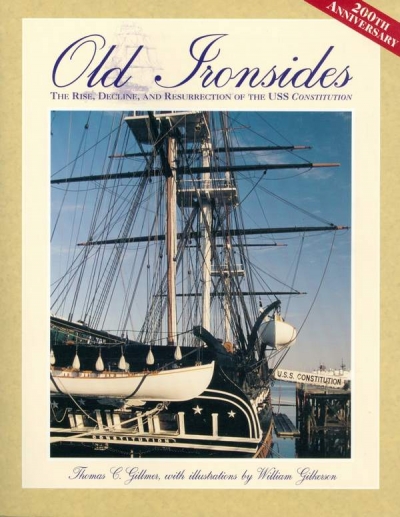 Gillmer, Thomas C.
OLD IRONSIDES
The Rise, Decline and Resurrection of the USS 'Constitution', 8 pp coloured plates from paintings by William Gilkerson (see specimen below), very numerous b&w illustrations from photographs and drawings, numerous plans and cross-sections of the ship at various times in its life, notes, bibliography and index, xiv & 239 pp, paperback, inscription on half-title, otherwise in very good condition, International Marine (Camden, Maine) 1997
23.3 x 17.9 cm, 560g, ISBN 0 07024 564 9
See below the description from the inside page of the book's cover.
I have a tenuous connection with USS 'Constitution', as I was for many years solicitor to the trust which restored the 1817 British frigate HMS 'Trincomalee', now afloat in Hartlepool Harbour. By the end of the Napoleonic Wars Britain had almost run out of suitable oak trees for building ships, and so it was proposed to send the plans for the proposed new frigates to Mumbai in India, where the shipyards had plentiful supplies of teak. The plans were entrusted to the frigate HMS 'Java'.
While 'Java' was sailing south towards the Cape of Good Hope, she was sighted by 'Constitution', which gave chase. A fierce fight ensued (see the picture below) lasting some four hours, but 'Java' was dismasted and her captain killed (like Nelson) by a sniper's bullet. On inspection, 'Java' was too badly damaged to be worth salvaging, so she was set on fire. She sank when her powder magazine exploded, taking the plans for the new British frigates with her. New copies of the plans had to be sent out on another ship.
HMS 'Trincomalee', being built of teak in Mumbai, lasted much longer than similar ships built of oak, which are attacked by wood-boring worms. Although 'Trincomalee' is now fully restored, her structure is over 50% original. 'Constitution', on the other hand, having recently been 'restored' for the fourth time, is only 7% original . . .
While the book was originally published in hardback, this new edition in 1997 to celebrate the ship's 200th anniversary was only published in paperback. The book is still in print at £16.99.
£7.75
(FREE UK Mainland delivery)
Click to enlarge images below