Photography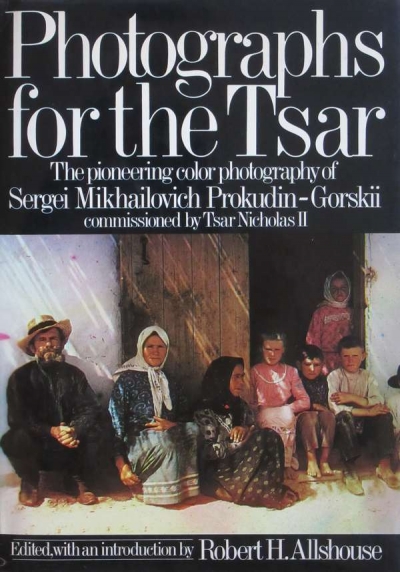 Allshouse, Robert H. (editor)
PHOTOGRAPHS FOR THE TSAR
The Pioneering Color Photography of Sergei Mikhailovitch Prokudin-Gorskii Commissioned by Tsar Nicholas II – Edited with an Introduction, album of colour (see specimens below) and b&w (i.e. sepia) photographs with captions, afterword on Prokudin-Gorskii's colour processes, short bibliography, xxiv & 216 pp, brown boards in d/w, the book appears to have been dropped on the top of its spine as the d/w and boards are a little damaged (but neatly repaired), however the binding is sound, slight crinkling to bottom outside corner of pages as if they had been damp at some time in the past (but no pages stuck together), otherwise in very good condition, Sidgwick & Jackson 1980
31.1 x 21.6 cm, 1340g, ISBN 0 28398 678 6
See the description below from the dustwrapper flap. Although the book bears the name of Sidgwick & Jackson on the title-page, they clearly had the book produced and bound in the USA, as American spellings are used throughout.
The occasional spots of pink on the photographs (as on the front of the dustwrapper) are a result of the original coloration (sic) process and are not printing faults in this edition.
As the publisher used heavyweight paper to to better reproduce the photographs, it would cost a good deal to send the book abroad. If you are outside the U.K. and are thinking about buying it, please email us first on enquiries@monkshillbooks.co.uk and we will quote a price for postage.
£10.50
(FREE UK Mainland delivery)
Click to enlarge images below