Nautical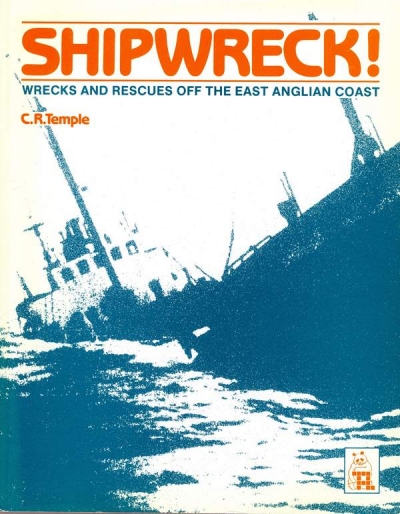 Temple, C.R.
SHIPWRECK!
Wrecks and Rescues off the East Anglian Coast, effectively an album of b&w photographs with long descriptive captions and with a separate section on the East Coast lifeboats, 148 pp, paperback, spine and edges of covers a little browned, base of spine a trifle bumped, otherwise in very good condition, Tyndale Press (Lowestoft, Suffolk) 1986
25.3 x 19.8 cm, 500g, ISBN 1 87009 401 8
See the author's introduction below. Not as macabre a book as it sounds – most of the crews were saved. It includes accounts of the sinking of the Radio Caroline ship 'Mi Amigo' in 1980, and of a dredger which dredged up a German wartime mine, which exploded under the ship. Despite the damage, the crew kept pumping furiously and the dredger made it back to port!
A revised and updated successor to the author's 1974 book 'East Coast Shipwrecks', which was published in hardback. This later book, however, was only ever published in paperback, and is now long out of print.
£7.75
(FREE UK Mainland delivery)
Click to enlarge images below