Modern Literature
Books >
Modern Literature
>
A CONCISE ETYMOLOGICAL DICTIONARY OF THE ENGLISH LANGUAGE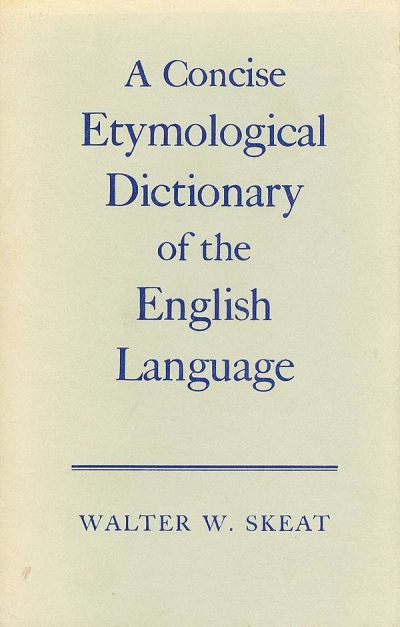 Skeat, Rev. Walter W.
A CONCISE ETYMOLOGICAL DICTIONARY OF THE ENGLISH LANGUAGE
1976 reprint of new and corrected edition of 1911, xvi & 664 pp including introduction and appendices, navy blue boards in d/w, d/w edges a little rubbed, spine of d/w darkened, otherwise in very good condition, Oxford University Press 1976
18.1 x 11.4 cm, 530g, ISBN 0 19863 105 7
See the description below from the dustwrapper flap.
Whereas Oxford University Press have kept Skeat's larger Etymological Dictionary in print, at a mere £145.00, their website makes no mention of this Concise Etymological Dictionary.
Beware – the hardback reprint published by Cosimo Classics and available at £35.49 on The Website That Is Intent on World Domination is of the 1901 edition, whereas Skeat revised and corrected the book further and issued his final edition in 1911. Our copy is the 1976 reprint of the 1911 edition – see the preface to our copy below.
£16.50
(FREE UK Mainland delivery)
Click to enlarge images below