Collecting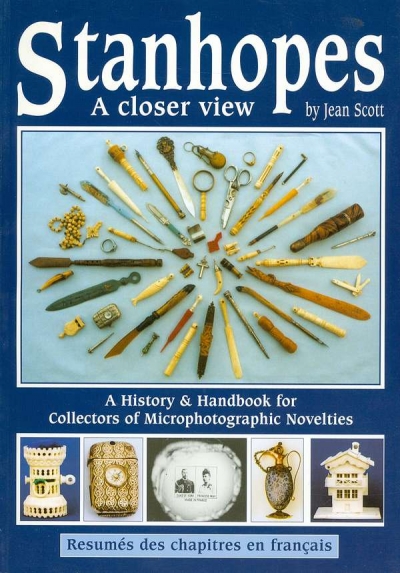 Scott, Jean
STANHOPES
A Closer View – A History and Handbook for Collectors of Microphotographic Novelties, very numerous photo illustrations in colour and b&w, coloured maps, diagrams, synopses of the chapters in French, bibliography and index, viii & 135 pp, paperback, in very good condition with uncreased spine, Greenlight Publishing (Witham, Essex) 2002
29.5 x 20.4 cm, 550g, ISBN 1 89773 809 9
A 'Stanhope' is an extremely small glass lens and a micro-image, such as a photograph or engraving, contained in a small artefact, like those illustrated on the front cover of the book. If you hold the artefact up to the light and look through the lens, the image becomes visible. See also the description below from the book's rear cover.
The Stanhopes are named after the 3rd Earl Stanhope (1753-1816), who invented a thick tubular glass lens which could be used in the field as a hand microscope. The Frenchman René Dagron (1819-1900) later refined this concept both to reduce the size of the lens and to take micro-photographs, and set up a factory to produce these Stanhopes and supply them to prospective manufacturers of curios throughout the world. The business continued, run by Dagron's son, until 1972, but since then no Stanhopes have been produced commercially.
The book is also now out of print.
£16.00
(FREE UK Mainland delivery)
Click to enlarge images below