Ancient History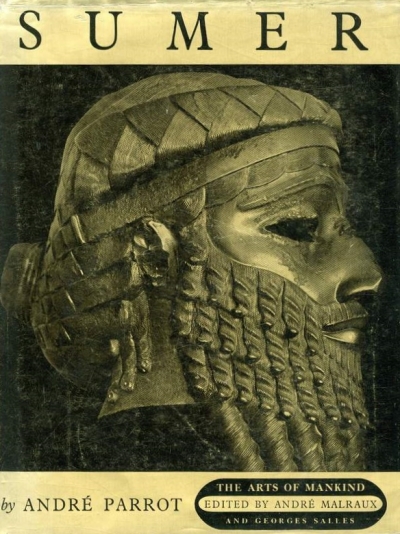 Parrot, André
SUMER
Translated by Stuart Gilbert and James Emmons, Text entirely in English, The Arts of Mankind series, very numerous illustrations (many in colour) from photographs, drawings, paintings, sculptures, artefacts, layout and ground plans and maps, numerous fold-out illustrations, chronological tables, glossarial index, bibliography, lii & 396 pp, red cloth with gilt design, in d/w, d/w scratched, extremities of d/w creased, rubbed and a little torn (neatly repaired at top of spine), very slight spotting to closed edges of pages, otherwise in good condition, Thames and Hudson 1960
26.9 x 21.1 cm, 2150g, no ISBN
See the description below from the dustwrapper flap.
The dustwrapper appears to have been slightly too tall for the book, hence the creasing to the top edge. Also the material chosen for the dustwrapper was strong paper with a gold foil coating, on which the black design was directly printed. The characteristics of this type of paper meant that if it was creased the foil layer was likely to suffer somewhat, which is what has happened in this case.
Surprisingly in view of the book's age, it is still available new, but only in a French edition with French text.
Beware – this is a very large and heavy book and would cost a fortune to send abroad. If you are outside the U.K. and are thinking about buying it, please email us first on enquiries@monkshillbooks.co.uk and we will quote a price for postage.
£22.50
(FREE UK Mainland delivery)
Click to enlarge images below