Aircraft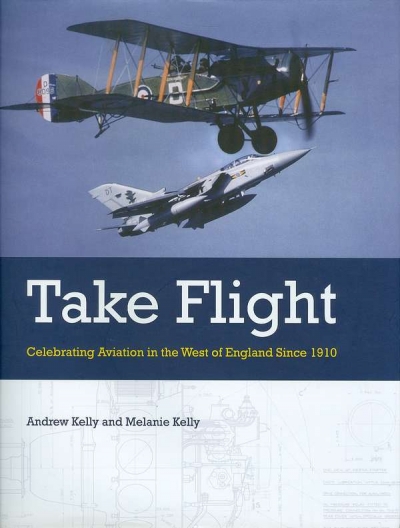 Kelly, Andrew & Melanie
TAKE FLIGHT
Celebrating Aviation in the West of England Since 1910, very numerous illustrations from photographs (b&w for earlier years, later in colour), paintings, line-drawings and diagrams, bibliographical notes and index, 318 pp, blue boards in d/w, in fine condition, Bristol Cultural Development Partnership (Bristol) 2010
27.8 x 21.5 cm, 1750g, ISBN 978 0 95507 423 3
Despite not mentioning Bristol in the title, this is effectively a non-technical history of the Bristol Aeroplane Company, published to celebrate its centenary, although by 2010 it had been absorbed into British Aerospace. See the descriptions from the dustwrapper flap and the rear of the dustwrapper.
As with most commemorative books, once sold out the book was not reprinted.
As the publisher used heavyweight paper to to better reproduce the photographs, it would cost a good deal to send the book abroad. If you are outside the U.K. and are thinking about buying it, please email us first on enquiries@monkshillbooks.co.uk and we will quote a price for postage.
£7.75
(FREE UK Mainland delivery)
Click to enlarge images below