Social History and Economics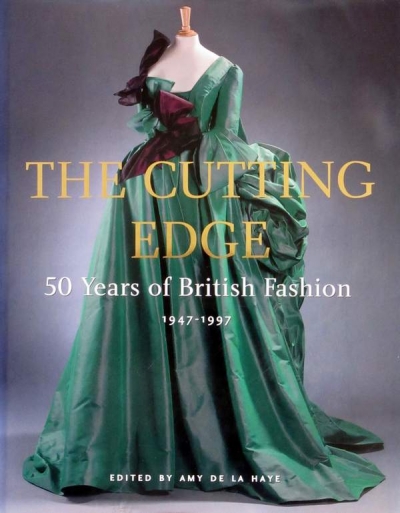 De La Haye, Amy (editor)
THE CUTTING EDGE
50 Years of British Fashion 1947-1997, very numerous illustrations from colour photographs (see specimens below from the rear cover of the d/w) with a few period b&w photographs, glossary of designers, notes and bibliography at end of each section, 208 pp, grey boards in d/w, front cover of d/w a little faded at spine edge, slight scratches to rear of d/w, otherwise in very good condition, V&A Publications 1996

27 x 21.2 cm, 1130g, ISBN 1 85177 194 8
Published to accompany the Victoria & Albert Museum's major exhibition in 1997 – see below the description from the dustwrapper flap, and the foreword.
Long out of print. The book was also published in paperback, but surely a book of this size and weight, intended to be referred to frequently, should only ever be published in hardback?

Beware – this is a large and heavy book and would cost a good deal to send abroad. If you are outside the U.K. and are thinking about buying it, please email us first on enquiries@monkshillbooks.co.uk and we will quote a price for postage.
£12.75
(FREE UK Mainland delivery)
Click to enlarge images below