General
Books >
General
>
THE DOMESDAY BOOK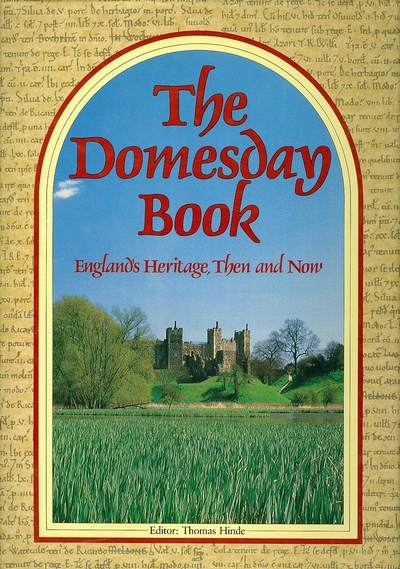 Hinde, Thomas (editor)
THE DOMESDAY BOOK
England's Heritage, Then and Now, very numerous illustrations from colour photographs and line-drawings, maps, glossary, appendix giving major Domesday landholders, bibliography & index, 351 pp, red boards in d/w, top and bottom edges of boards slightly bumped, otherwise in very good condition, Guild Publishing by arrangement with Century Hutchinson 1985
30.1 x 22.9 cm, 1870g, no ISBN
In spite of its "coffee-table" size and appearance, this is a serious reference book, translating most of the highly compressed Latin of the original, and classifying the entries by reference to their modern place-names (see the specimen page below, and the description from the dustwrapper flap).
Another Guild Publishing book which is almost indistinguishable from the Century Hutchinson original, apart from the GP logo on the spine. The main text of the Domesday book entries is printed in green (see specimen page below). Later reprints for some inexplicable reason used light blue ink instead of green, which makes the entries somewhat difficult to read.
Now out of print, and, I would have thought, very unlikely to be reprinted in these straitened times.
As this is a large and heavy book, it would cost a good deal to send the book abroad. If you are outside the U.K. and are thinking about buying it, please email us first on enquiries@monkshillbooks.co.uk and we will quote a price for postage.
£11.75
(FREE UK Mainland delivery)
Click to enlarge images below